Douglas' response when Connie says she wants to separate in that opening scene is "but we're going to be alone". On the Continent, he soon is. First he loses Albie, then Connie, then his luggage. Stripped to the very basics, Douglas is forced to confront the question many of us spend lifetimes dodging: who am I, really? Or at least he would if Us were a different, slightly less British, piece of television.
There is undeniably a core of truth in the portrayal of a marriage that's run out of steam, but there's a certain reticence too. Us is alive to the gulfs that can emerge within relationships almost without anyone noticing until suddenly it's impossible to see anything else. But it doesn't really want to stare into that abyss for too long because, well, it might be a bit unsettling.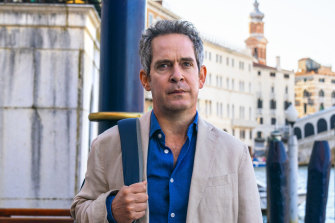 It all makes for a show that's enjoyable enough, but only in a rather middle-brow, middle-England, middle-of-the-road kind of way.
But I suppose any road is better than none right now, and as Emily in Paris proved, when they're as appealing as the cobbled streets of Europe, we're willing to forgive a multitude of storytelling sins.