It is in the best interests of Malayalam industry trade bodies to take the initiative and proactively pressure the government to release the findings of the Justice Hema Commission (JHC) report, says
Padmapriya
, who, with actor Revathy, is the only member of both AMMA and Women in Cinema Collective (
WCC
). This way, instead of settling on solutions provided by the government, stakeholders can bring the changes to move forward progressively.
WCC members have, over the past several days, expressed their anguish about the delay in making public the JHC report, completed after two-year detailed in-camera interviews with artistes and others, about the working conditions in the industry. The report, which apparently reveals the scale of sexual harassment, among other issues. was submitted to the government on December 31, 2019. Questions have been raised since then about why it has so far not even been tabled in the Assembly.
"Please remember that the JHC deposition is not just about sexual harassment issues, but also about non-sexual harassment issues that men and women, not just actors, but across various trades have faced. And if we don't discuss the findings, what are we going to discuss? Harassment, sexual or non-sexual, is because of power heirarchies and the lack of redressal systems, and unless we have mass narratives across trades and across genders, any solution we have will be makeshift. The recommendations of the three-member committee are not what is important, because they were made after a study done over only two years, with a limited understanding of how the film industry works; only actor Sharada in the three-member committee had experience of the industry. First, let us know what you have found. As for finding solutions, let us get to that later. That has to be done over various sessions with stakeholders," says Padmapriya.

She points out that, unlike in the west, there has never been a data-driven process to understand the disparities in the film industry, and the JHC report is the closest the industry has come to that in the entire country.
She rubbishes the government claim that the report is not released to protect the identities of victims who revealed their stories. "The issue is not about a particular survivor alone, but to ensure that repeated offences don't take place. We all know there is an issue, let us acknowledge that and see what are really non-issues and what are the in-between solutions. It is very myopic to say we cannot release the reports for fear of revealing names of the victims. How is anybody going to know who is who if you don't reveal the film set, the survivor and the accused. And if some conclusions are going to be made, let them be made. Sometimes i t will lead to the betterment of the industry. Why should people think it will lead to its destruction?" she asks.
Padmapriya says that the report will stand not only the industry in good stead, but can also be adopted for best practices in other workplaces. "The cinema industry is a classic example of an unstructured workplace and if you can find solutions to make this place more equal and more representative, with safe work practices, this will be a way forward not just for the film industry but also other similar setups. This should be considered a boon for anyone except the main perpetrators," she says.
Law secretary Hari V Nair said that the report is with the social justice department and Culture Affairs Minister Saji Cheriyan is keen to bring out recommendations. Our queries to the social justice department went unanswered.

I know I am not alone in this fight: Survivor

In a note of gratitude to those who have stood with her, the survivor in the actor assault case that took place in February 2017, published a post on Monday morning writing, "Though I am not the one who has committed the crime, there have been many attempts to humiliate, silence and isolate me. But at such times, I have had someone who stepped forward to keep my voice alive. Now, when I hear so many voices speak up for me I know that I am not alone in this fight for justice."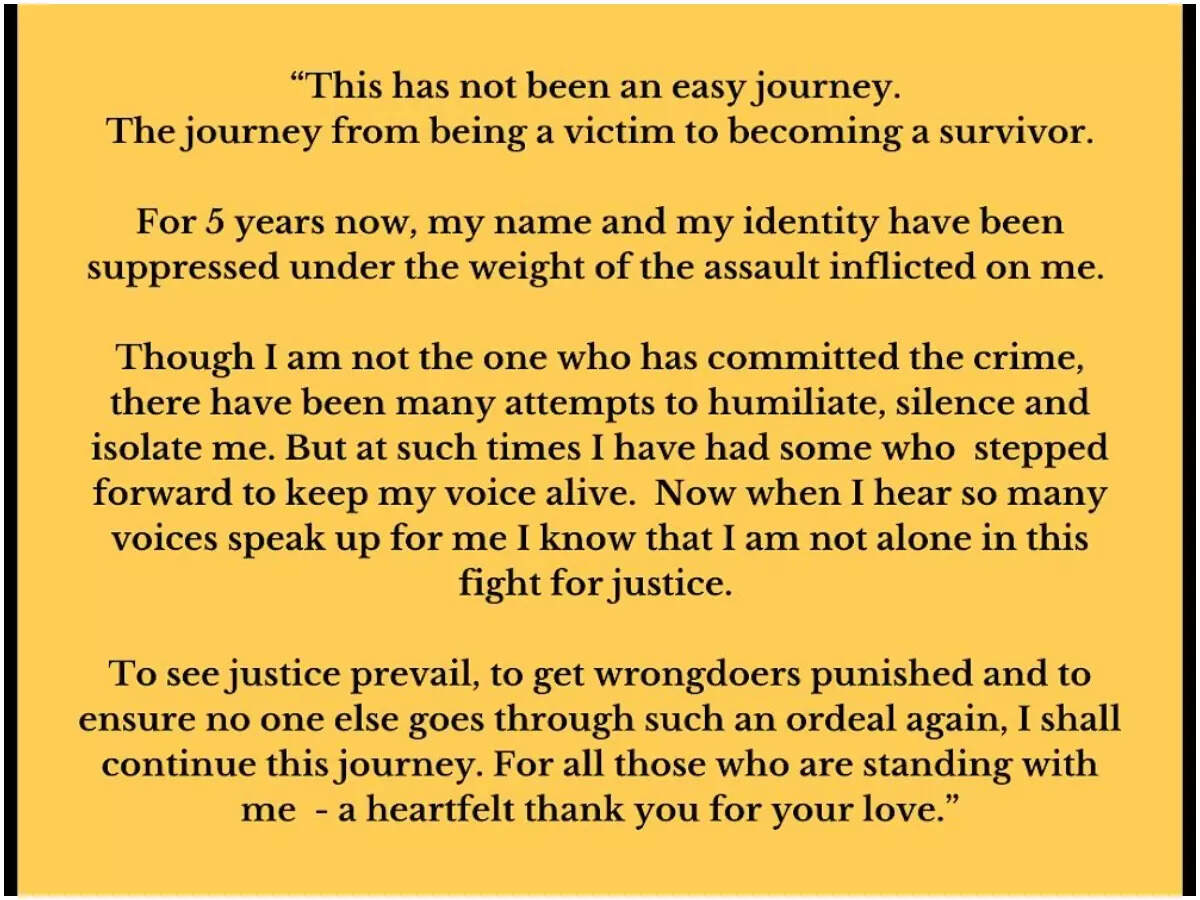 In an admirably brave tone, she wrote of staying the course, "To see justice prevail, to get wrongdoers punished and to ensure no one else goes through such an ordeal again I shall continue this journey." Her post was reposted by several industry colleagues, including WCC members, Manju Warrier, Prithviraj, and Roshan Mathew, among others.
Meanwhile, Actor Dileep filed an anticipatory bail on Monday afternoon, with the crime branch registering a fresh FIR against him and five others, including his brother and brother-in-law, for allegedly raising threats against the investigation officer and others in the probe.