Jared Leto's preposterous performance as Paolo Gucci starkly contrasts the other actors who took this story seriously—which is just one major problem with Ridley Scott's weird new misfire, writes Rory Doherty.

On paper, it's easy to imagine House of Gucci working. A true crime story focused on a fashion giant, populated by larger-than-life, scheming Europeans, each attempting to outdo each other in their pursuit of success and respect in the fashion world during the latter half of the 20th century. The film tells the story of Gucci house, content in letting their brand wither before being shaken up by the arrival of the bold and brash Patrizia Reggiani (Lady Gaga), who is contrastingly touted as both a money-grubber and a breath of fresh air by different members of the family upon her marriage to company heir Maurizio (Adam Driver).
The importance of Patrizia in Gucci's climb back to the top is, by the film's own admission, tenuous. But she's the centre of this story, the lust and jealousy germinating from wealth and power eventually driving her to murderous extremes. The problem is, neither Gucci's rebranding or the doomed romance are ever convincingly or compellingly realised. The whole affair ends up being frustrating to those who are invested in the story, and tedious for those who aren't.
There's nothing wrong with movies about performances. It sounds like a lot of fun: famous people gather in rooms, wearing dynamic, era-accurate costumes, trouncing each other in a fashion tug-of-war, and seeing who can do it with the most questionable Italian accent. There doesn't need to be multifaceted thematic investigation' it's about sustaining the bones of a real-life story with campy excellence.
It is completely confounding, then, that the film was helmed by Ridley Scott, a director not known for either stylistic flair or coaxing out memorable, layered performances—but rather an efficient filmmaking process and a workmanlike approach to storytelling. As a result, there's a lack of coherence to the ensemble. The majority are OK, but without a directorial eye tapped into the entertaining potential of these heightened characters, they largely fall by the wayside. It's a sorry state of affairs when Adam Driver and Al Pacino feel wasted in a film.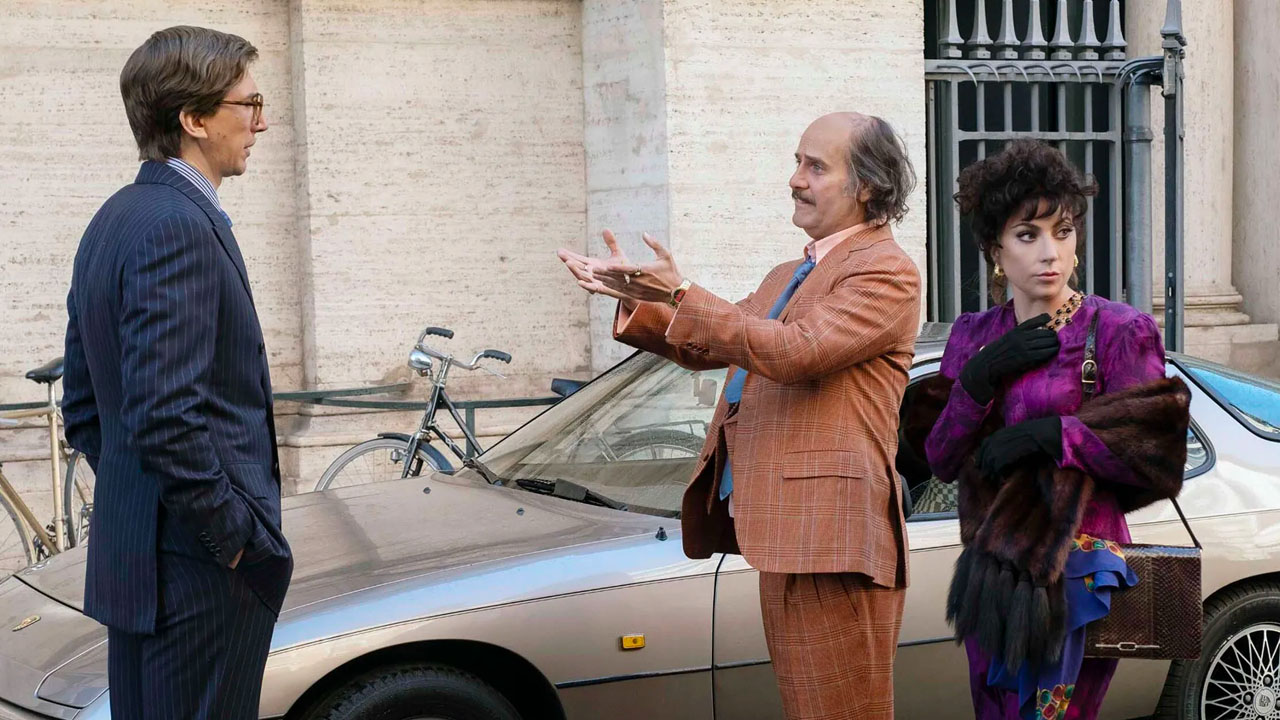 Much has been said about the swing-and-miss that is Jared Leto's performance of Paolo Gucci. Donning thick prosthetics and an accent ripped from Super Mario Bros, he seems to be the only actor aware of what House of Gucci could be: an elevated, ludicrous drama in which everyone makes themselves look stupid. The fault however lies at the feet of Scott, who should have told him to reign it in and fall in line with the other performers—but instead the director saw the ridiculous turn and thought it would work.
Alas, no other actor got the memo, so Leto stands out as borderline embarrassing compared to the performers who are taking the story seriously. The thick makeup appliances are a grim reminder of Hollywood's steadfast commitment to casting recognisable names over dependable character actors, regardless of their suitability for the role.
Sign up for Flicks updates
The only performer who gets away scot-free is Lady Gaga, threading the needle almost flawlessly as the new addition to the Gucci clan. Her actions are always understandable, her motives and drives well telegraphed, and she commands the screen with equal parts silliness and gravitas. But one well-pitched performance cannot sustain a weak narrative. Even though Scott's talents lie in building atmosphere—constructing a believable environment with rich, authentic attention to detail—it all feels wasted when our attention is diverted to A-listers attempting to wield the charisma of experienced comic talents.
House of Gucci feels like a film made up of deleted scenes. There's never a great urgency to what's on screen, and we get the sense the real narrative is happening out of frame. We plod through the years, unsure if we're meant to focus on the revival of the Gucci company, the backstabbing of family, or the toxic, violent love stories. Fun doesn't seem to be on the minds of anyone involved, and the true life story just isn't scandalous or interesting enough to keep us hooked.