No matter what happens this year, at least we'll have some pretty amazing releases to keep us entertained.
With so many movies, TV series, theatre shows and video games constantly working within the parameters of that global presence that is still here nearly three years later, it can be hard to judge when a release date is 100% set in hard cold stone.
And while most of the TV and streaming services tend to keep their release dates close to their chests (ahem, Netflix), we've got it on good authority that the titles in our list below of returning TV shows will most definitely* see the light of day in 2022.
And so, here's what TV series you will need to keep an eye out for over the coming year.
*Don't come for us if your favourite series gets delayed.
'The Marvelous Mrs. Maisel' | Amazon Prime, February 18
She's (nearly) baaaaack. To say we are excited to see Midge (Rachel Brosnahan) on the small screen again is an understatement – we're positively beside ourselves. Now, season four of the comedy/drama has a lot to live up to, especially following that devastating season three finale, but we're confident Amazon will deliver the goods. The upcoming season has also added some well-respected names to the roster, including John Waters, Kelly Bishop, Milo Ventimiglia and Jason Alexander.
'Killing Eve' | BBC, February TBC
Another series that's getting its fourth season later this year is the cat-and-mouse creation 'Killing Eve'. Unfortunately for fans, however, season four will also be it's last. The Jodie Comer and Sandra Oh-led darkly comedic thriller is expected to arrive Stateside this February, but a BBC One release date is yet to be confirmed. Whenever we do actually get to see it, expect plenty of more over-the-top exploits, as Comer previously stated this will be "one to remember".
'Bridgerton' | Netflix, March 25
Lady Whistledown and her unique way of relaying the latest round of gossip will return this spring with what will no doubt be a fresh pot of tea, just waiting to be spilt. With Regé-Jean Page ducking out of season two (except for a guest appearance, perhaps), it'll be up to Phoebe Dynevor, Jonathan Bailey, Nicola Coughlan and new addition Simone Ashley to keep the drama unfolding. Plus, don't forget that there's a spin-off series 'Queen Charlotte', based on the character portrayed by Golda Rosheuvel, also in production, so we've got plenty more 'Birdgerton' to look forward to.
'Peaky Blinders' | BBC/Netflix, Early 2022
6 pm on New Year's Day was a bittersweet moment for 'Peaky Blinders' fans, as they got the first trailer of the upcoming sixth season, which was also revealed to be the series' final instalment. Arriving in "early 2022", the season will pick up with Cillian Murphy's Tommy Shelby on the lookout for a mole within the family. Sadly, this will be the only season of the gritty drama not to feature Helen McCrory as Aunt Polly.
'Atlanta' | Disney+, Early 2022
Given that season three sees the gang tour all over this side of the world, it makes sense that we've had to wait a painstakingly long time for this third part (thanks to the world being the way that it is). The award-winning comedy/drama, created by and starring Donald Glover, also stars LaKeith Stanfield, Zazie Beetz and Brian Tyree Henry as they try to make money from rapper Paper Boi in their new surroundings of Europe. You can watch seasons one and two on Disney+ right now.
'Russian Doll' | Netflix, TBC 2022
The time-loop comedy series, led by Natasha Lyonne, was confirmed for a second season all the way back in June of 2019, so we're hoping season two will arrive rather soon. Annie Murphy of 'Schitt's Creek' (and 'Kevin Can F*** Himself', also confirmed for a second season) will join the cast, so too will Sharlto Copley ('Powers') and Carolyn Michelle Smith ('House of Cards').
'The Boys' | Amazon Prime, June 3
We're ready for more deeply sadistic Homelander happenings. Season three of 'The Boys' has been greenlit for a June 3 release date on Amazon Prime, and judging from the very brief teaser trailer, it's going to be just as disturbing as ever. This time around there is a colossal amount of fresh meat being added to the character roster, such as Jensen Ackles joining as Soldier Boy, Nick Wechsler as Blue Hawk, Sean Patrick Flannery as Gunpowder and many more. In true 'The Boys' style, let's presume not all of them will make it to the end of the season.
'Stranger Things' | Netflix, Summer 2022
It's nearly time to return to Hawkins. Well, actually, no it's not. This time we're going on a road trip. Season four of the coming-of-age/sci-fi/horror/comedy and everything else in between is gearing up for a journey across the US for its fourth season. As we saw in the trailer released last November, Eleven (Millie Bobby Brown) is adjusting to Canliforian life with Will (Noah Schnapp) and Joyce Byers (Winona Ryder) – but more explosions and other-worldly happenings are on the horizon.
'The Flight Attendant' | Sky/NOW, TBC 2022
It has now been over a year since 'The Flight Attendant' was confirmed for a second season, meaning we're probably guaranteed Kaley Cuoco's Cassie will return later this year. While there weren't very many plotlines left to clear up after season one (except perhaps what Rosie Perez's Megan will do next), it'll be interesting to see what direction, and what exotic locations, season two will take us on.
'Only Murders In The Building' | Disney+, TBC 2022
If there's only one thing we can take away from 'Only Murders In The Building' season one, it's that Gut Milk sounds like a rancid creation. Everything else, however, worked rather well. Ending the season on a cliffhanger was a stroke of genius, dropping the three crime podcast lovers into another perilous situation. As well as Steve Martin, Martin Short and Selena Gomez returning, Cara Delevingne will be a series regular, with Amy Schumer and Shirley MacLaine joining as guest stars.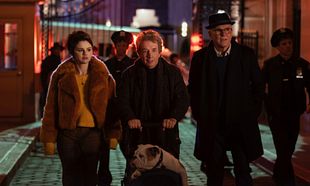 'Derry Girls' | Channel 4, TBC 2022
Ah, here. The end is nigh for what has probably been Ireland's most successful comedy series since 'Father Ted' (again, don't come for us if your opinion differs). Season three will mark the very end of the road for Erin, Michelle, Clare, Orla and wee James as they head out into the scary world that is young adulthood. We don't know how we'll deal with Sister Michael being off the screen; ah, go on Lisa McGee, give us the spin-off we're all desperate for.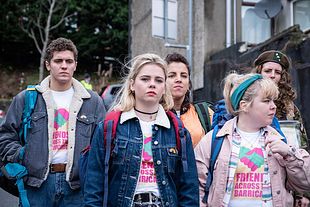 'The Crown' | Netflix, November TBC
And finally, our look at the various TV series returning in 2022 would be incomplete without mentioning one of the Netflix heavy-hitters, 'The Crown'. With a brand new cast taking us into the final stretch of the factual drama, anticipation is high as we wait and see what Imelda Staunton can bring to the ageing monarch, who was previously portrayed by Claire Foy and Olivia Colman. The penultimate season will also star Jonathan Pryce, Lesley Manville, Dominic West and Elizabeth Debicki.
Expect all of these, plus many more returning TV series in 2022 such as 'The Umbrella Academy', 'The Handmaid's Tale', 'Better Call Saul', 'His Dark Materials', 'Westworld', 'The Walking Dead', 'Dead To Me', 'Grace and Frankie' and 'I Hate Suzie' to hit our screens soon.
window.fbAsyncInit = function() { FB.init({ appId : 2788711801154650, autoLogAppEvents : true, xfbml : true, version : 'v3.1' });
}; if (consentManager.isAllowed('facebook')) { (function(d, s, id){ var js, fjs = d.getElementsByTagName(s)[0]; if (d.getElementById(id)) {return;} js = d.createElement(s); js.id = id; js.src = "https://connect.facebook.net/en_US/sdk.js"; fjs.parentNode.insertBefore(js, fjs); }(document, 'script', 'facebook-jssdk')); }