Stay Close is the latest in a series of Harlan Coben adaptions on Netflix. First, thriller fans were treated to Safe, followed by The Stranger, The Woods, and The Innocent. Now, to kick off January 2022, Coben's gripping Stay Close has been adapted for the small screen.
Fans of the novel will have undoubtedly noticed several changes from the original book material and the Netflix adaption but one of the biggest changes of all is the show's setting, which has been altered to the UK instead of the U.S. Newsweek has everything you need to know about the filming locations and settings of Stay Close on Netflix.
Where is Stay Close Set?
The original Harlen Coben novel was in Atlantic City, New Jersey but the Netflix series is set in the fictional British town of Ridgewood.
Coben's novel follows the story of suburban mother Megan (played by Cush Jumbo), a former dancer who once chased the American dream but now has a dark secret that could threaten to unravel her now perfect life.
In Netflix's adaption, Megan is a former dancer at a fictional nightclub called Vipers, who, just like in the original novel, crosses paths with Detective Broome (James Nesbitt). Broome is investigating the case of a man who has been missing for 17 years. His investigation has also led him to believe there may be a serial killer on the loose.
Megan is drawn into the case and her dark secret may be the key to solving Broome's case, but is she willing to face the past?
Where was Stay Close Filmed?
Stay Close was filmed in and around the north west of England, most notably Manchester and Blackpool.
Speaking to Manchester Evening News, Coben shared: "[As well as Manchester], we also used Blackpool, while the book is set in Atlantic City, New Jersey, Blackpool really looks a lot like Atlantic City!
"It's always a challenge to move things around."
Coben continued: "I know some people are like 'you're not keeping true to the book,' but I love that hybrid of what British crime does so well and what I do in novels.
"I love making changes. A book is a book and a TV series is a TV series.
"They are not the same thing and they shouldn't be. Both should be compelling stories, but the worst adaptations are the ones that are slavishly devoted to the text."
If you are familiar with the north east of England, you may recognize some familiar locations or alternatively, if you ever decide to pay Manchester and Blackpool a visit, you can check out where Stay Close was filmed.
The Refuge bar in Manchester, situated on Oxford Road, was used as the setting for Megan's bachelorette party in the first episode of Stay Close. The Edwardian Manchester Hotel on Peter Street mirrored as the backdrop for Dave's (Daniel Francis) bachelor equivalent.
The exterior of lap-dancing club Vipers, where Megan used to work under the alias Cassie, was filmed outside a former nightclub called Shorrocks Hill in Formby. However, Viper's interiors were filmed inside the Impossible Bar in Manchester's city center.
The lawn tennis club where Megan's past comes back to haunts her was filmed at a real club in West Didsbury, aptly called West Didsbury's Northern Lawn Tennis Club.
Blackpool also features prominently throughout the series as the home of Ray and viewers will spot Blackpool's famous seafront and the iconic Central Pier.
For Netflix's adaption of Stay Close, Coben's six-story tall "Lucy the Elephant" meeting point has been swapped for The Dream sculpture in Sutton Manor Woods in St. Helens.
The Dream sculpture was designed by artist Jaume Plensa and stands on top of the old Sutton Manor Colliery site.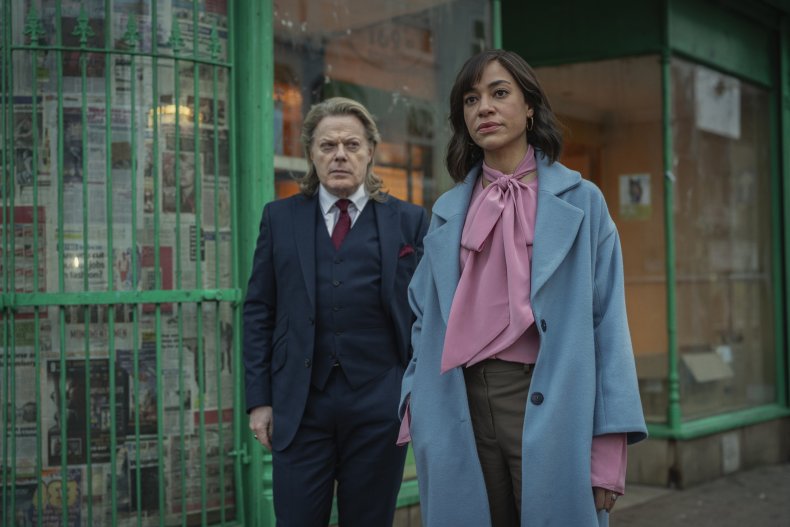 Who Is In The Cast of Stay Close?
Cush Jumbo leads the cast as Megan Shaw/Cassie, a former stripper-turned-soccer mom.
She is best known for her starring role as attorney Lucca Quinn in the CBS legal drama series The Good Wife and its spin-off series The Good Fight.
The Strangers star Richard Armitage plays the role of Ray in Stay Close alongside Cold Feet star James Nesbitt as Detective Broome.
EastEnders star Jo Joyner, plays the role of Erin, and comedian Eddie Izzard can be seen as sketchy lawyer Harry.
Other cast members include Sarah Parish as Lorraine, Youssef Kerkour as Fester, and Andi Osho as Simona.
Stay Close is streaming on Netflix now.